Luis M. Arellano, Luis Martín-Gomis, Habtom B. Gobeze, Myriam Barrejón, Desiré Molina, María J. Gómez-Escalonilla, José Luis G. Fierro, Minfang Zhang, Masako Yudasaka, Sumio Iijima, Francis D'Souza, Fernando Langa and Ángela Sastre-Santos.
Peripheral versus axial substituted phthalocyanine-double-walled carbon nanotube hybrids as light harvesting systems.
Journal of Material Chemistry C, 3, 10215-10224.
DOI: 10.1039/c5tc02114f.
Myriam Barrejón, Ana Primo, María José Gómez-Escalonilla,  Jose Luís García-Fierro, Hermenegildo García and Fernando Langa.
Covalent functionalization of N-doped graphene by N-alkylation.
Chemical. Communications , 2015, 51,16916-16919.
DOI: 10.1039/c5cc06285c.
S. Arrechea, A. Molina-Ontoria, A.I. Aljarilla, P. de la Cruz, F. Langa, L. Echegoyen.
New acceptor-porphyrin-aceptor systems as p-type conductors for solar cell applications.
Dyes and Pigments, 2015, 121, 109-117.
DOI: 10.1016/j.dyepig.2015.04.037.
M. Barrejon, S. Pla, I. Berlanga, M.J. Gomez-Escalonilla, L. Martin-Gomis, J.L. Garcia-Fierro, M. Zhang, M. Yudasaka, S. Iijima, H.B. Gobeze, F. D`Souza, A. Sastre-Santos, F. Langa.
Peripheral versus Axial Substituted Phthalocyanines-Double- Walled Carbon Nanotubes Hybrids as Light Harvesting Systems.
Journal of Material Chemistry C, 2015, 3, 4960-4969.
DOI: 10.1039/c5tc00425j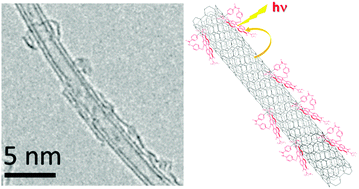 I. Ojeda, M. Barrejon, L.M. Arellano, A. Gonzalez-Cortes, P. Yañez Sedeño, F. Langa, J.M. Pingarrón.
Grafted-double walled carbon nanotubes as electrochemical platforms for immobilization of antibodies using a metallic-complex chelating polymer: Application to the determination of adiponectin cytokine in serum.
Biosensors and Bioelectronics, 2015, 75, 24-29.
DOI:10.1016/j.bios.2015.06.001
B. Pelado, F. Abou-Chahine, J. Calbo, R. Caballero, P de la Cruz, J.M. Junquera Hernandez, E. Orti, N. Tkachenko, F. Langa.
Role of the Bridge in photoinduced electron transfer of Porphyrin-Fullerene dyads.
Chemistry A European Journal, 2015, 21, 5814-5825.
DOI: 10.1002/chem.201406514
B. Pelado, J. Coro, P. de la Cruz, F. Langa.
Free-base porphyrin and [60]fullerene linked by oligomeric ethylenedioxythienylenevinylene bridge.
Journal of Porphyrins and Phtalocyanines, 2015, 19, 404-410.
DOI: 10.1142/S1088424615500261
N. F. Montcada, R. Dominguez, B. Pelado, P. de la Cruz, F. Langa, E. Palomares.
High Photocurrent in Oligo-thienylenevinylene Based Small Molecule Solar Cells Having 4.9% Solar-to-Electrical Energy Conversion.
Journal of Materials Chemistry A. 2015, 3, 11340-11348.
DOI: 10.1039/C5TA01632K
P. Mayorga Burrezo, B. Pelado, R. Ponce Ortiz, P. de la Cruz, J.T. Lopez Navarrete, F. Langa, J. Casado.
Robust EthylenedioxyThiophene-Vinylene Oligomers From Fragile Thiophene-Vinylene Cores: Synthesis and Optical, Chemical and Electrochemical Properties on Multicharged Shapes.
Chemistry A European Journal,, 2015, 21, 1713-1725.
DOI: 10.1002/chem.201404838